bowlieboy1978
5

January 23rd, 2007 + 2:01 PM
·

bowlieboy1978
Not a dark song at all. It's only TWO chords which was some kind of experiment. I even tried to use a harmonica.
2

I spent the day in Amsterdam (when I lived in Holland) looking for a digital 4-track and failed in the mission. I got drunk and walked around like a weirdo. Later on I wrote this about it. Another one with "Gordo" so the base-line and lead bit are better than I could do (at the moment). I like this one but hate my singing.
1

This is taken from a minidisc so is quite poor quality. I wrote this one when a friend of mine wanted me to write a song about rainbows. It goes round and round without any bridges (so ...... I know), but was fun as I used a proper electro-acoustic and not a pick-up. I was lucky enough to have a friend of mine play the base-line and lead bit - which makes it sound so much better - Thanks to "Gordo Magic".

PS - ALL done with ONE guitar (no bass)
1

This is the last one of my really old ones until next week. I was trying out a multi-tracker when everyone went out and left me alone (I don't do anything if people can here - which is why I like this site - I CAN'T SEE YOU !!!)

Had problem keeping time which is normal for a beginner and tried a few layers when I tried to play the same thing twice which was good practice and quite fun. More later.....
1

Having problems with upload but this is one I did years ago and it repeats over and over but used it to practice recording .......... better ones next week
Alias:
bowlieboy1978

Status: Offline
Threads:
9
Posts:
33
Songs:
9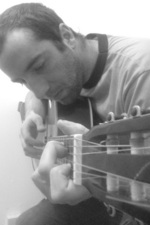 Joined: January 12th, 2007
Last login: May 23rd, 2007
My Messengers
| | |
| --- | --- |
| AIM: | n/a |
| ICQ: | n/a |
| Skype: | n/a |